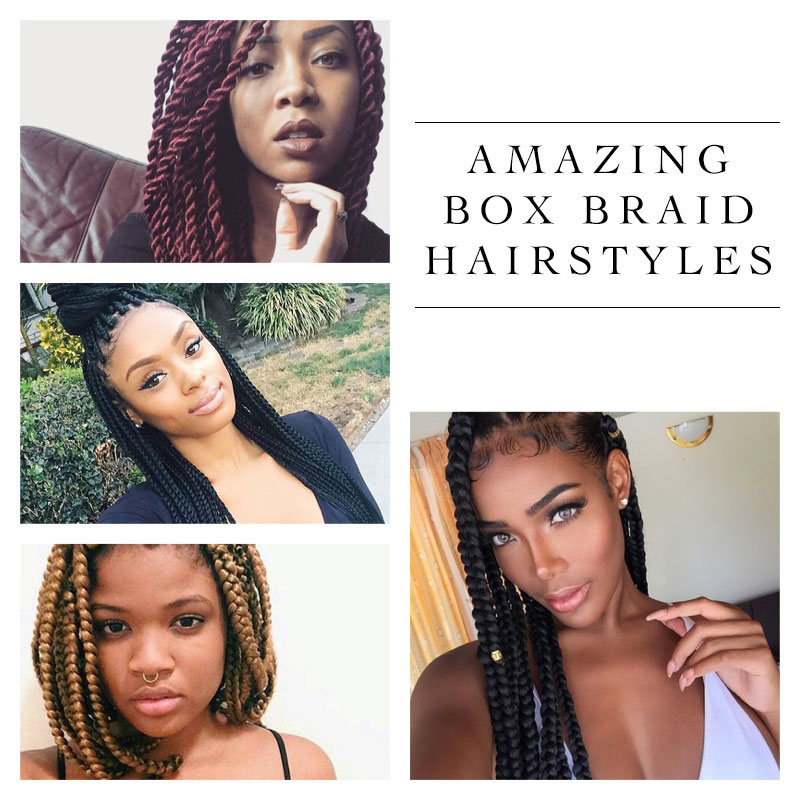 Be inspired by these box braid hairstyles
For many women with afro-textured hair, box braids can be an amazing protective hairstyle. Whether you are looking to grow out your hair or just protect your natural tresses, they are beyond versatile. In the 90's, stars like Janet Jackson and Jada Pinkett Smith brought box braids to the mainstream. And for today, stars like Zoe Kravitz, Beyonce and Amandla Stenberghave brought the style back in the forefront.
But we all can't be celebrities, right? So if you are looking for some real life inspiration, check out the beautiful girls of Instagram with their inspiring braided hairstyles. From jumbo-sized twists to colorful shades ranging from purple to pink and grey, there is no limit. Wear the looks with an elegant bun or cut it short. Look below to see sixteen box braid hairstyles below.
BOX BRAIDS IN PICTURES
A gorgeous chunky box braid hairstyle with gold accents. (Source)
Bring some romance to the box braid hairstyle with an updo decorated with flower adornments. (Source)
A short, bob-length box braid look is great for everyday wear. (Source)
Crochet box braid hairstyle decorated with gold threading. (Source)
Another gorgeous and long box braid hairstyle (Source)
Add some dimension to your box braids with grey ombre color. (Source)
Don't be afraid for a bold color combo like this short blonde and yellow box braid style. (Source)
Wear a box braids hairstyle with gold accents. (Source)
Don't be afraid of bold color like these purple box braids. (Source)
A short and golden-blonde box braid hairstyle (Source)
Take the box braid hairstyle half up and half down with a top-knot bun (Source)
Take inspiration from this short grey box braid hairstyle. (Source)
Get an elegant updo hairstyle with box braids by making a bun. (Source)
A bob-length jumbo box braid hairstyle is inspiring. (Source)
Add some color to your hairstyle with red box braids. (Source)
Embrace bold color with a hairstyle featuring pink ombre braids. (Source)