Categories:
Other Brands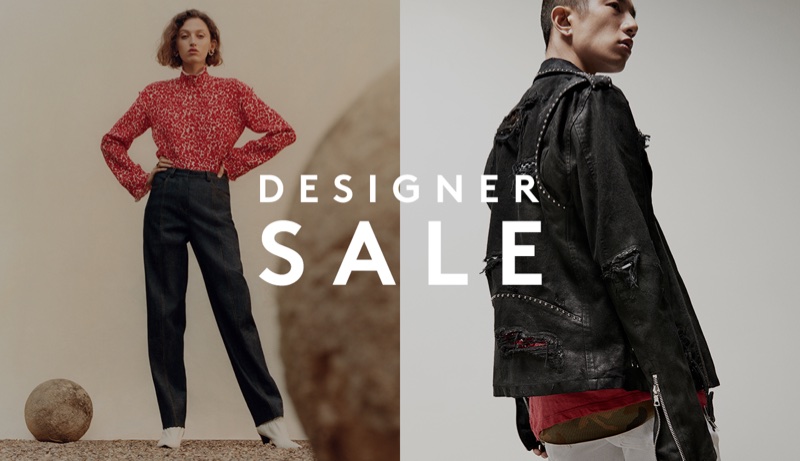 Barneys continues its winter sale into 2018
Barneys semi-annual designer sale is getting even better. You can now find some seriously great styles that go up to 70% off. Whether you are looking for a little black dress, bomber jacket or block-heeled ankle boots; the options are endless. Discover designs from brands such as Balenciaga, Givenchy, Chloé and Altuzarra. See some of our favorites below, and shop more at Barneys.com.
Related: Discover Neiman Marcus' Winter Sale
BARNEYS WINTER 2018 SALE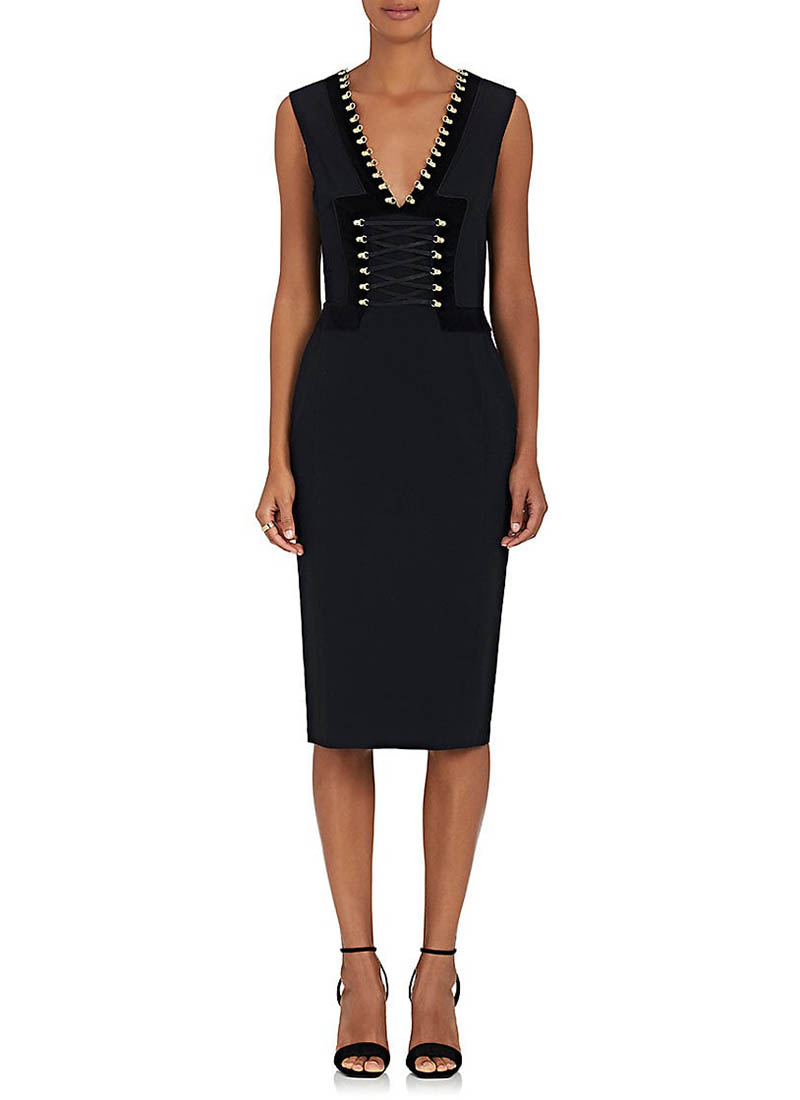 Altuzarra 'Adriana' Sleeveless Sheath Dress $599 (previously $1,995)
The little black dress features a sheath silhouette with a laced bodice and velvet trim.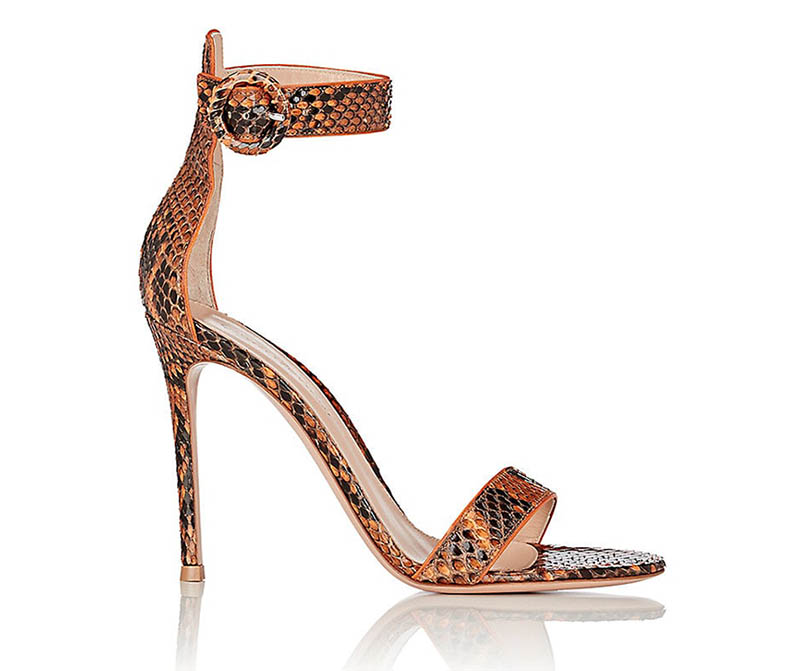 Gianvito Rossi 'Portofino' Ankle-Strap Sandals $479 (previously $1,195)
This sandal made of python and leather includes a stylish ankle-strap with a 4″ heel.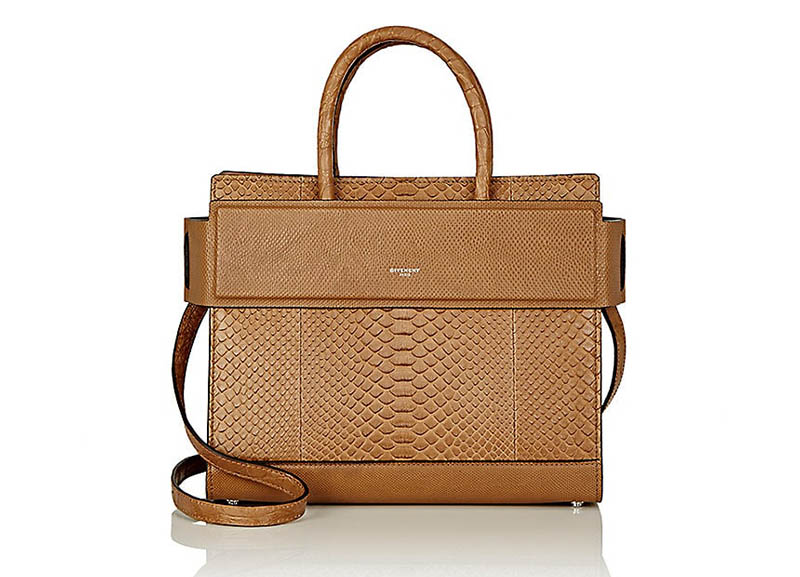 Givenchy 'Horizon' Python Small Bag $4,499 (previously $7,500)
Made from brown python, this miniature bag features silver-tone hardware and a stamped logo at the front.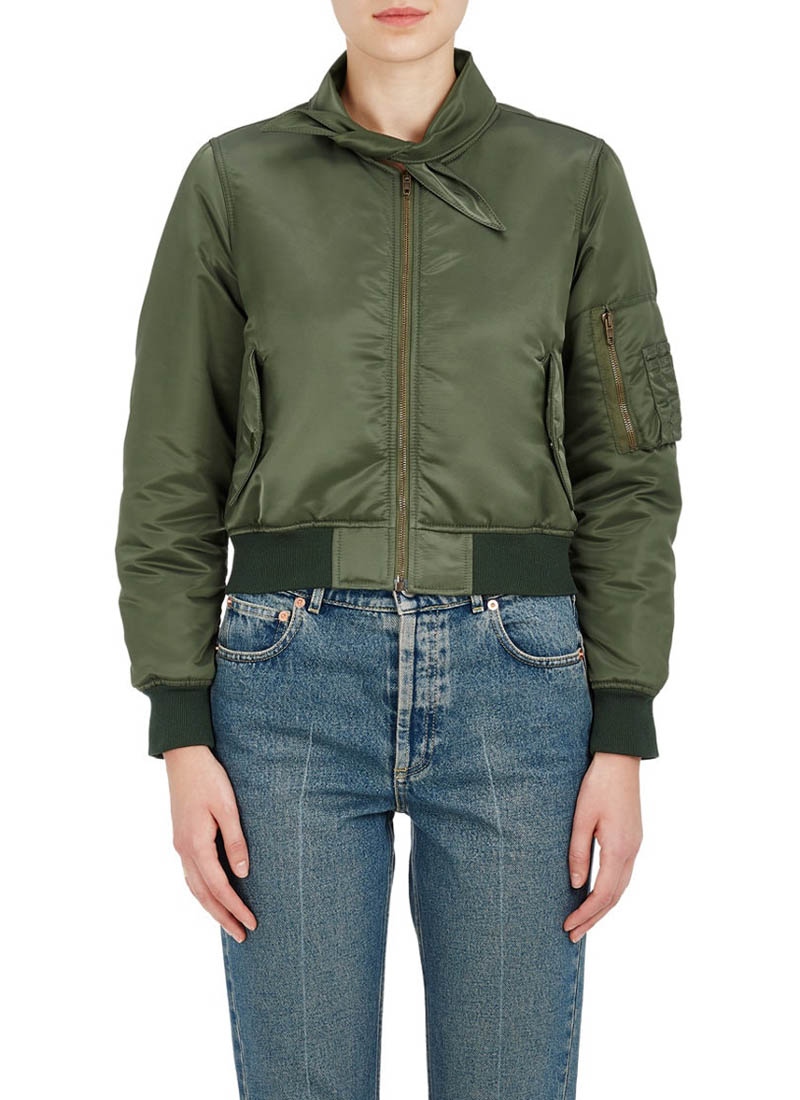 Balenciaga Scarf Neck Satin Bomber Jacket $569 (previously $1,895)
Made from olive-green tech-satin, this bomber jacket includes a scarf-neck detail.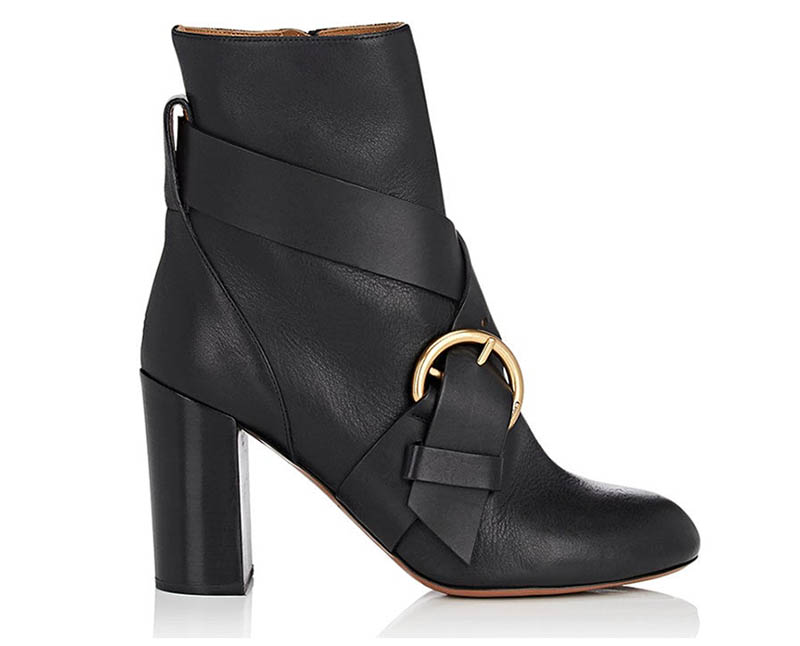 Chloé 'Nils' Leather Ankle Boots $419 (previously $1,050)
Crafted from black leather, an ankle boot features a chunky block heel and brass tone buckle.
comnum(0) tbcount(0) tbcount(357)
Categories:
Other Brands
Here's a new handbag from the Cruise 2018 Collection. At first-look, this might seems to be a normal bag – nothing special. But take another closer look, this bag is made to be your everyday companion and there are new features added. So meet the Chanel Braided With Style Flap Bag.
The Design

Crafted from durable grained calfskin leather to be used forever. The Braided With Style Bag is not like the Classic Flap Bag. It's flexible, slouchy and above all impeccable. It's stylish and casual yet chic and beautiful.
The body is flat quilted, which gives it a modern look. The center is crafted with the signature smooth CC logo and it comes with a long chain and leather strap.
The strap also contributes a lot of the overall style. As you can see, it's made with a braided calfskin leather strap for shoulder and cross body carry.
This handbag can definitely store more stuff than the Classic handbags. And it also feels easier and more comfortable.
The Interior
There are two styles available; the small and medium size. The Small Braided with Style Bag is measured 7.5' x 11.4' x 4.7' inches. The Chanel Jumbo Classic Flap Bag is measured 7.5' x 11' x 2.4' inches. So the small size of this bag is bigger than the jumbo size of the Classic Flap Bag. This will give you an idea of how spacious the interior is.
The Sizes And Prices
Chanel Small Braided With Style Flap Bag
Style code: A57116
Size: 7.5 x 11.4 x 4.7 inches
Price: $3300 USD, €3190 euro, £2960 GBP, $5360 SGD, $27800 HKD, ¥424440 JPY, 16850 MYR, $4450 CAD
Chanel Medium Braided With Style Flap Bag
Style code: A57117
Size: 8.7 x 11.8 x 3.9 inches
Price: $3600 USD, €3550 euro, £3290 GBP, $5960 SGD, $30900 HKD, ¥471960 JPY, 18750 MYR, $4950 CAD
More Images
comnum(0) tbcount(0) tbcount(509)
Categories:
Other Brands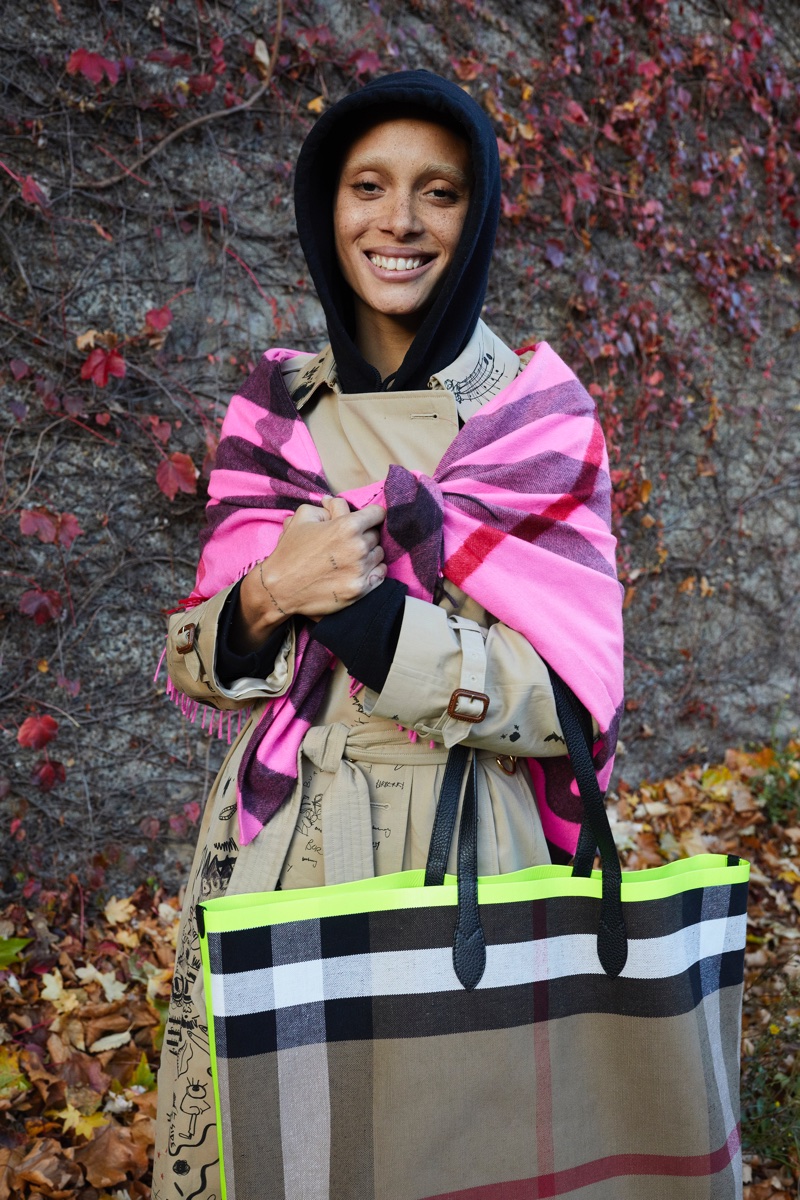 Adwoa Aboah fronts #JuergenXAdwoa Burberry campaign
Burberry taps German photographer Juergen Teller for a new photo project set to bow in 2018. The collaboration features model Adwoa Aboah in a series candid images captured in North London. The British model joins her cousins Alfie Husband, George Husband, Richard Theodore-Aboah and Kwame N'Dow. Friends Montell Martin and Mae Muller also appear in the campaign images. They all wear looks from the brand's new collection set to bow in January.
Related: Cara Delevingne Fronts Burberry's Holiday 2017 Campaign
CAMPAIGN: JUERGENXADWOA FOR BURBERRY 2018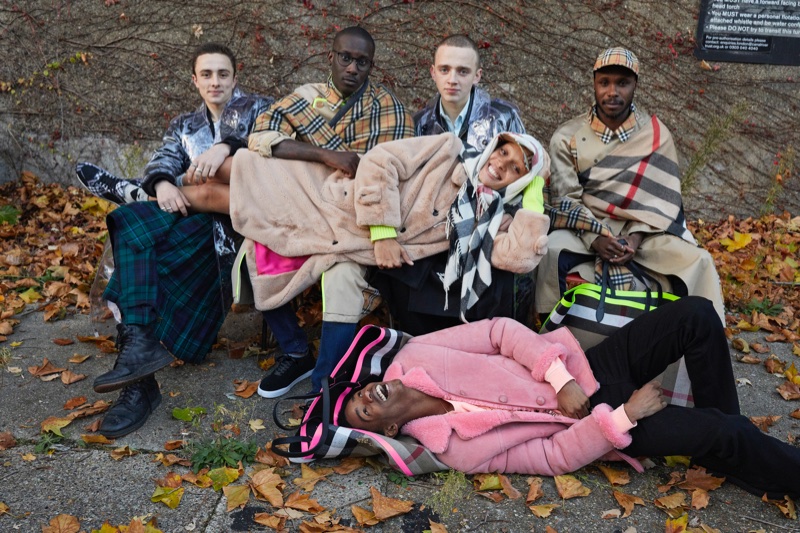 Model Adwoa Aboah poses with her cousins in Burberry #JuergenXAdwoa campaign
"It has been a huge honor for me to work with Burberry and Juergen Teller on this inspiring project. My role as both model and artistic director is one I have really enjoyed and embraced. Christopher Bailey is an incredible visionary and it has been an amazing experience to work together with him and Juergen to create this series of stories."
-Adwoa Aboah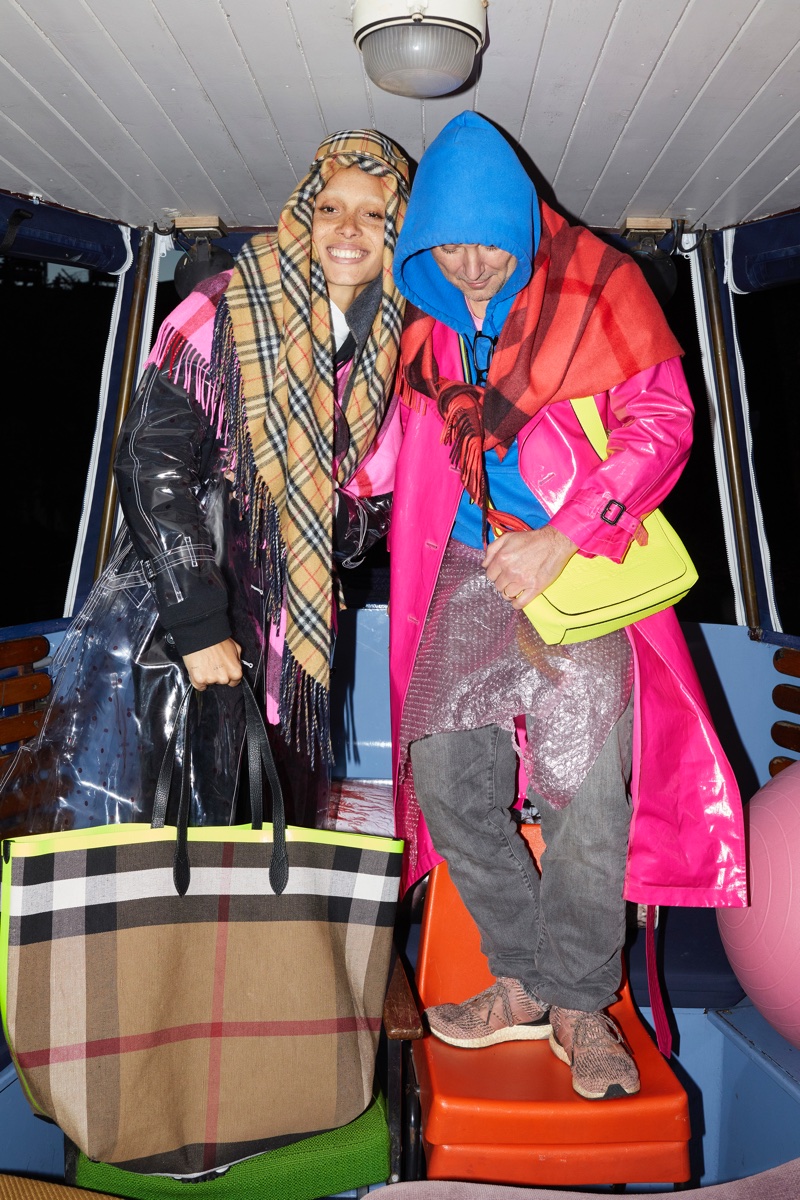 Adwoa Aboah poses with Juergen Teller in Burberry's #JuergenXAdwoa campaign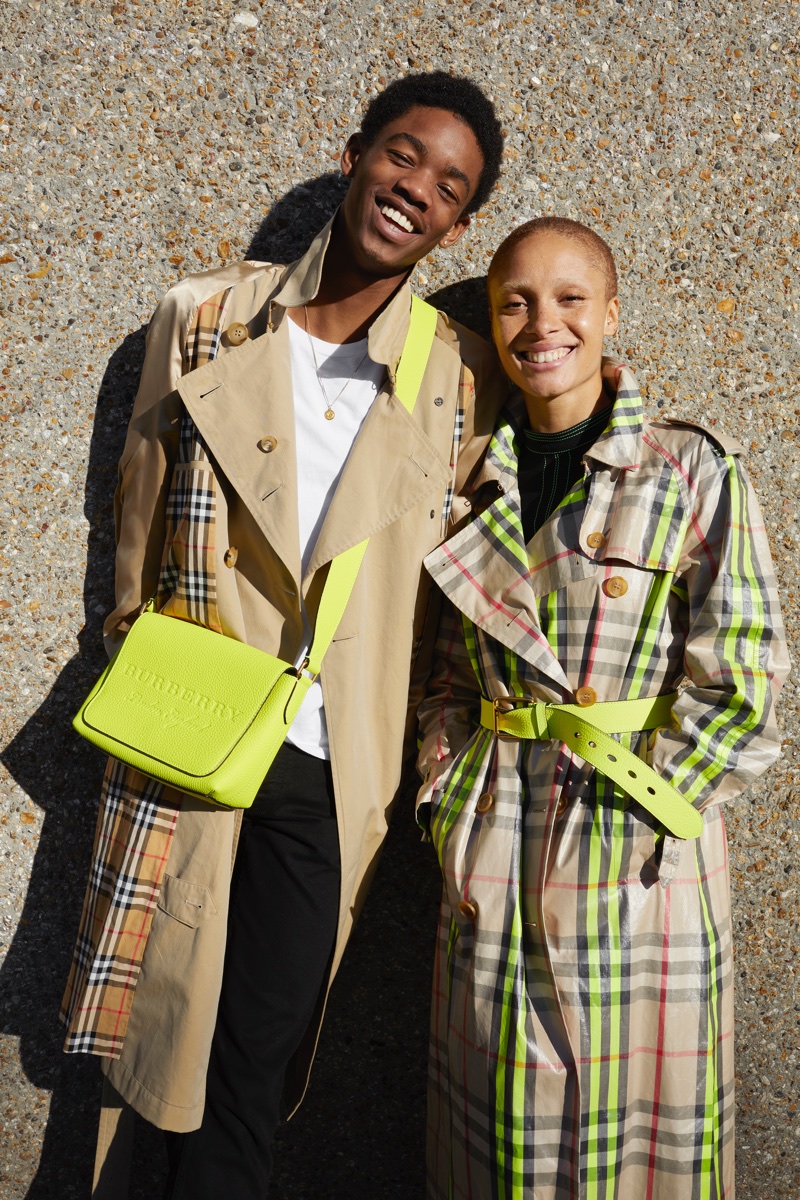 Montell Martin and Adwoa Aboah wear Burberry trench coats for #JuergenXAdwoa campaign
comnum(0) tbcount(0) tbcount(404)
Categories:
Other Brands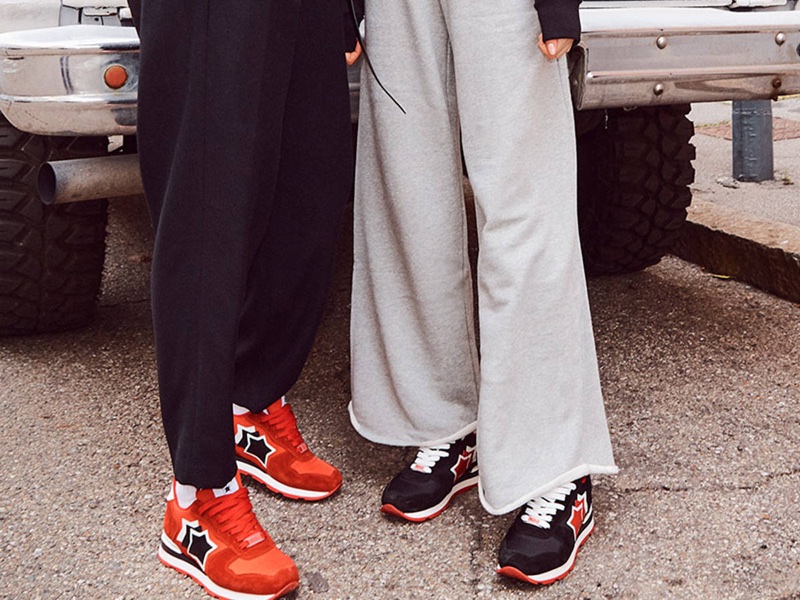 Just in: LVR Edition x Atlantic Stars release sneakers
Luisa Via Roma has teamed up with Italian sneaker brand Atlantic Stars on a new collaboration. Part of its LVR Edition'sline, the fashion retailer spotlights the 'Vega' sneaker in two colorways. Made from nylon and suede, the shoe comes in a black and red version. Decorated with star motifs as well as co-branded logos, these sneakers go perfectly with any casual look. Discover more from the Atlantic Stars x LVR Edition range below and shop the line at LuisaViaRoma.com.
Related: Rene Caovilla & LVR Edition's Shoe Collab Turns Up the Glam Factor
ATLANTIC STARS X LVR EDITIONS SNEAKERS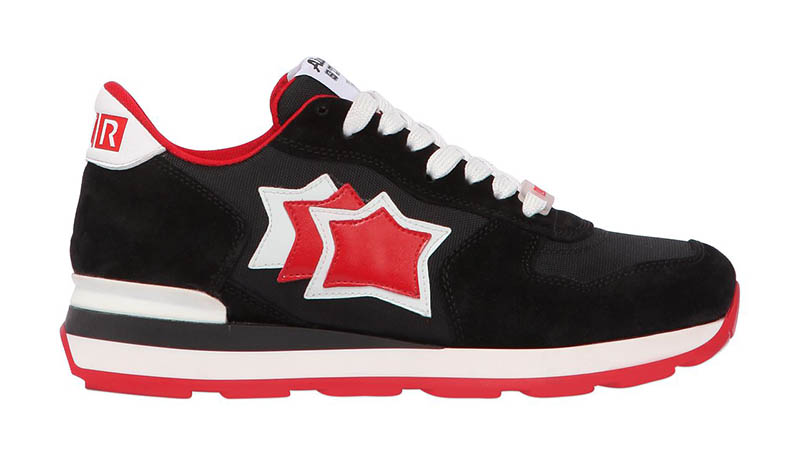 Atlantic Stars x LVR Edition 'Vega' Suede Nylon Sneakers in Black $280
These co-branded sneakers feature playful star motifs with color blocking.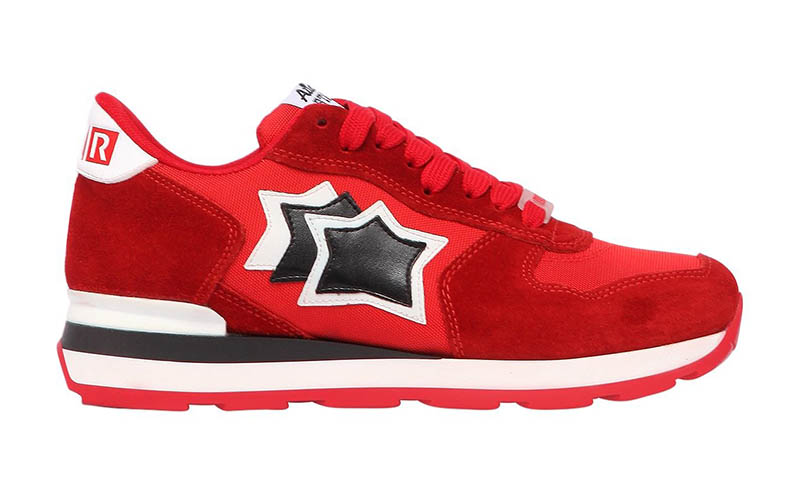 Atlantic Stars x LVR Edition 'Vega' Suede Nylon Sneakers in Red $280
Stand out in a red sneaker made from suede and nylon with a removable insole.
comnum(0) tbcount(0) tbcount(349)
Categories:
Other Brands
Do you like the rectangle WOC or the square WOC? Chanel has created the Archi Chic Bag in both styles. Last time we've talked about the Archi Chic Rectangle WOC and today we will introduce the Chanel Archi Chic Square WOC for the Cruise 2018 Collection.
The Design
The Archi Chic Square WOC is a new seasonal bag, but the Square WOC is new as well. The Square WOC was first introduced in mid 2017 and it has instantly become the next big thing. There are more versions available including the Classic Edition and theCChevron Statement Edition.
This bag is unique because the flap is designed in smooth leather while the body is made in diamond quilting. The flap is longer than usual and it's crafted with the CC logo in the center. The sides of the CC logo are reinforced with gold hardware to enhance the chic'ness.
You can carry the Square WOC cross body or you can sling it on your shoulder. It features the same woven chain leather strap as on the Rectangle WOC.
The Interior
The Archi Chic Square WOC is well organized and structured just like the original WOC. The interior is made with one small main compartment (fits your iPhone), several credit card slots, patch pocket and a zip pocket.
The Sizes And Prices
Style code A71603, measuring 5.7' x 6.7' x 2.4' inches, priced at $2275 USD, €2150 euro, £2130 GBP, $3200 CAD, $3860 SGD, $20000 HKD, $3570 AUD, ¥305640 JPY, 12150 MYR via Chanel boutiques.
More Images
comnum(0) tbcount(0) tbcount(430)
Categories:
Other Brands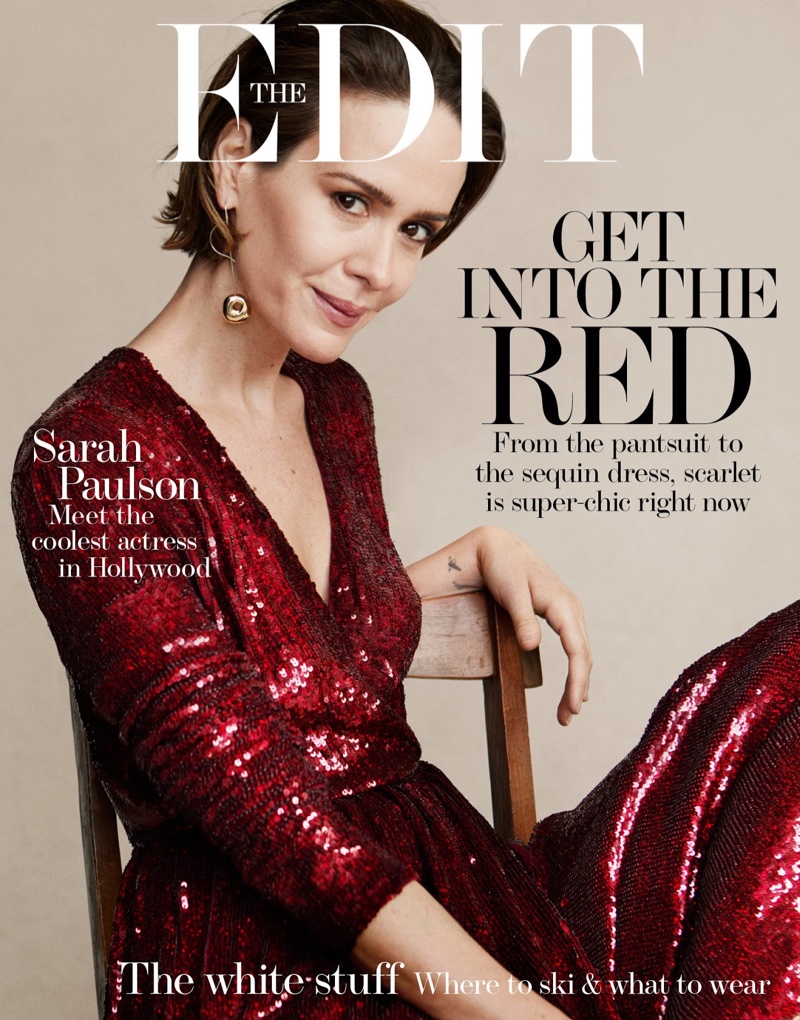 Sarah Paulson on The Edit December 7th, 2017 Cover
Actress Sarah Paulson sparkles in sequins for the December 7th, 2017 cover of The Edit from Net-a-Porter. Photographed by Victor Demarchelier, 'The American Horror Story: Cult' star poses in a red dress from Ashish with Leigh Miller earrings. In the accompanying shoot, Sarah continues to wear all-red outfits. Stylist Charles Varenne dresses the Golden Globe winner in designs from the likes of Stella McCartney, Balenciaga and Marc Jacobs.
Related: Sarah Paulson Poses in Dreamy Dresses for No Tofu Magazin
COVER SHOOT: SARAH PAULSON FOR THE EDIT DECEMBER 2017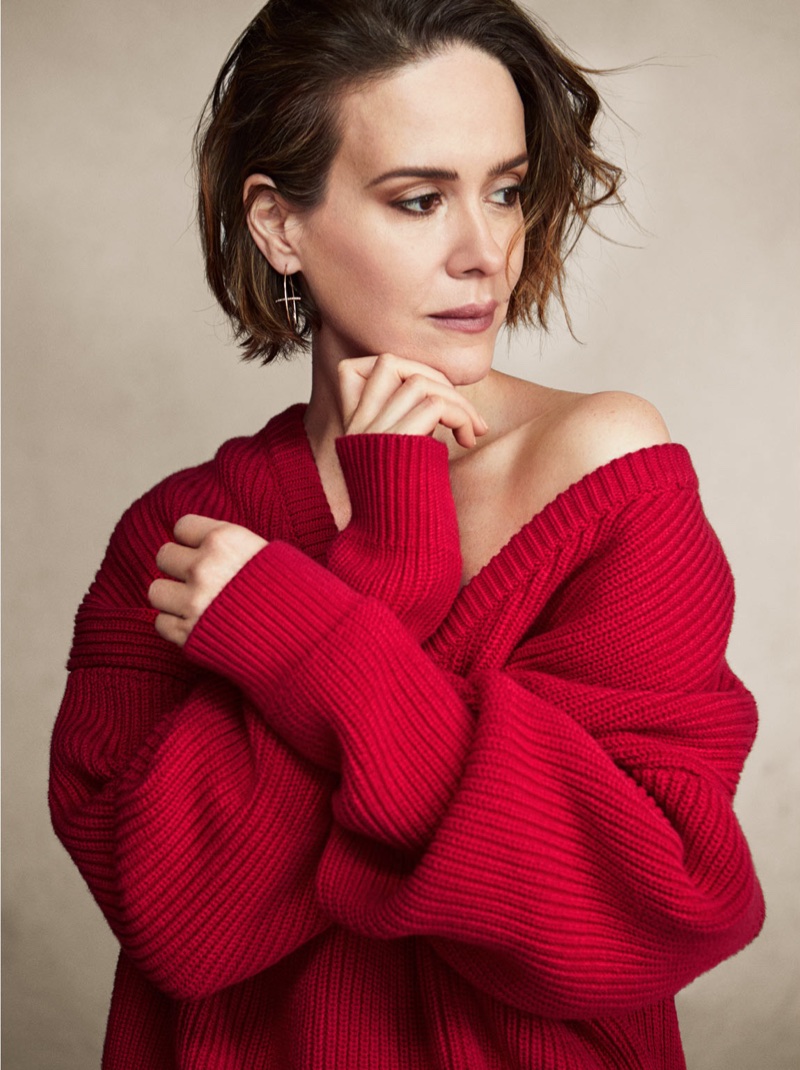 Actress Sarah Paulson wears Balenciaga sweater and Hirotaka earring
SARAH PAULSON ON HAVING AN UNCONVENTIONAL LIFE
In her interview, Sarah talks about how she lives an unconventional life.
"My life choices are, um, unconventional. I'm with a much older person and people find that totally fascinating and odd, and, to me, it's the least interesting thing about me. But I do feel a bit unconventional. I am a woman of a certain age who chose not to have children, and who has made my career my priority. I am the captain of my own ship, and I've never looked to anyone else to validate that, or tell me it's okay."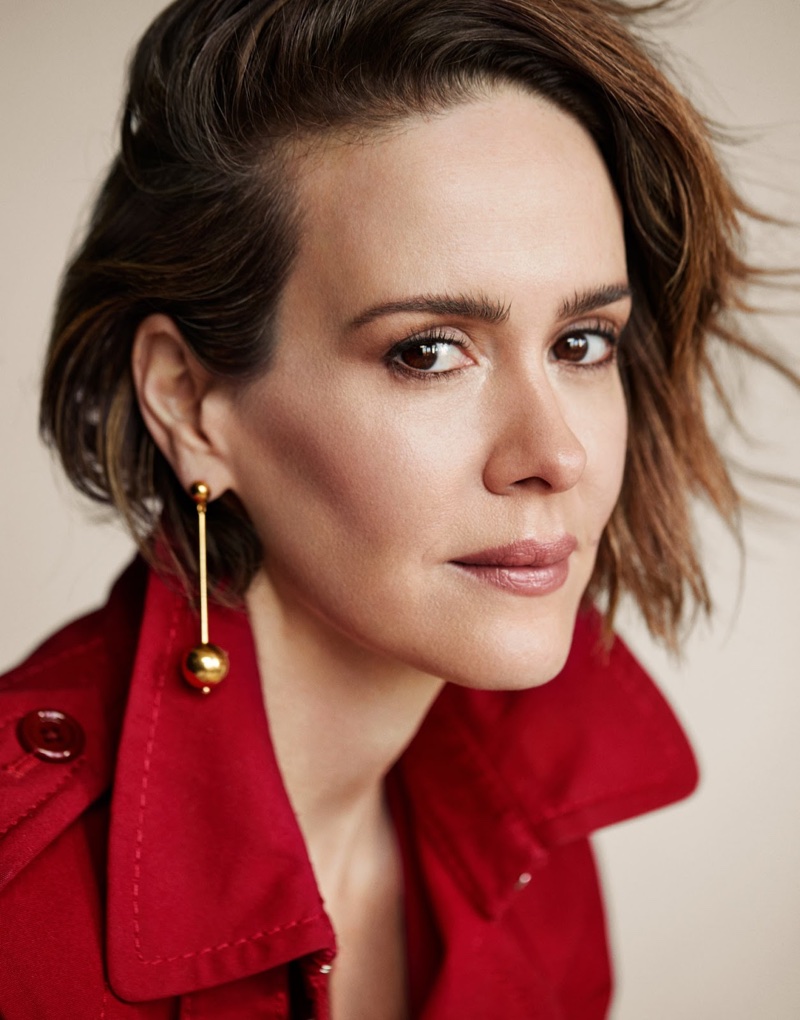 Ready for her closeup, Sarah Paulson poses in Marc Jacobs coat with Sophie Buhal earrings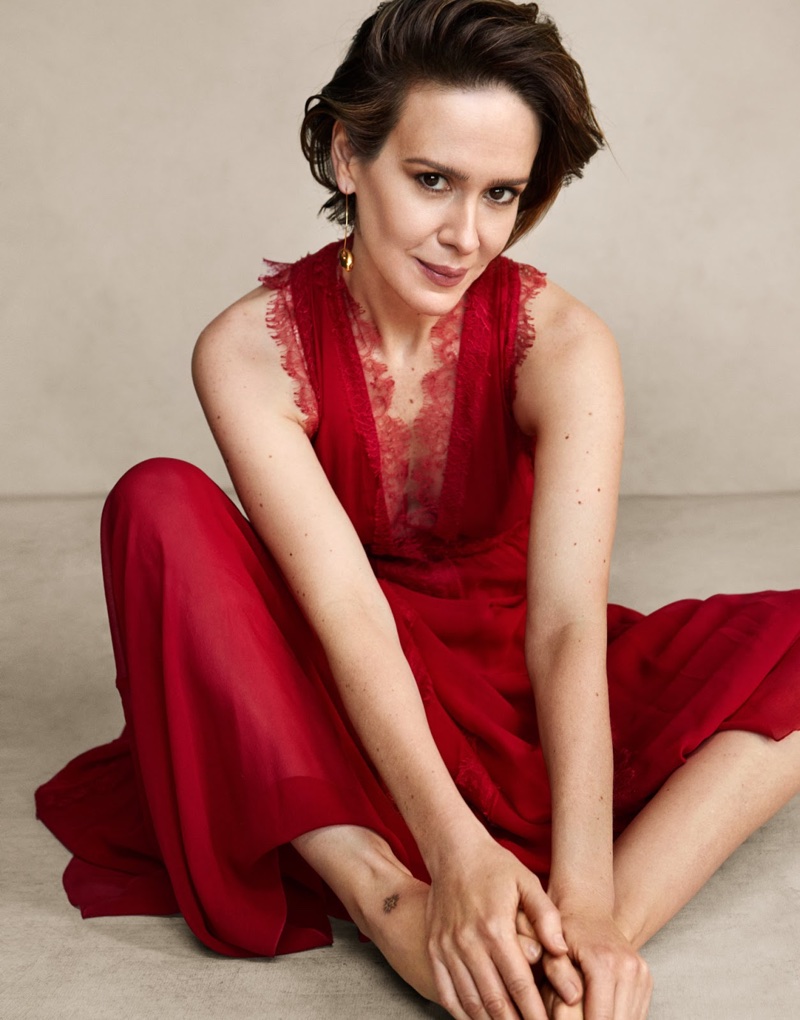 Sarah Paulson wears Giambattista Valli dress with lace and Allghieri earrings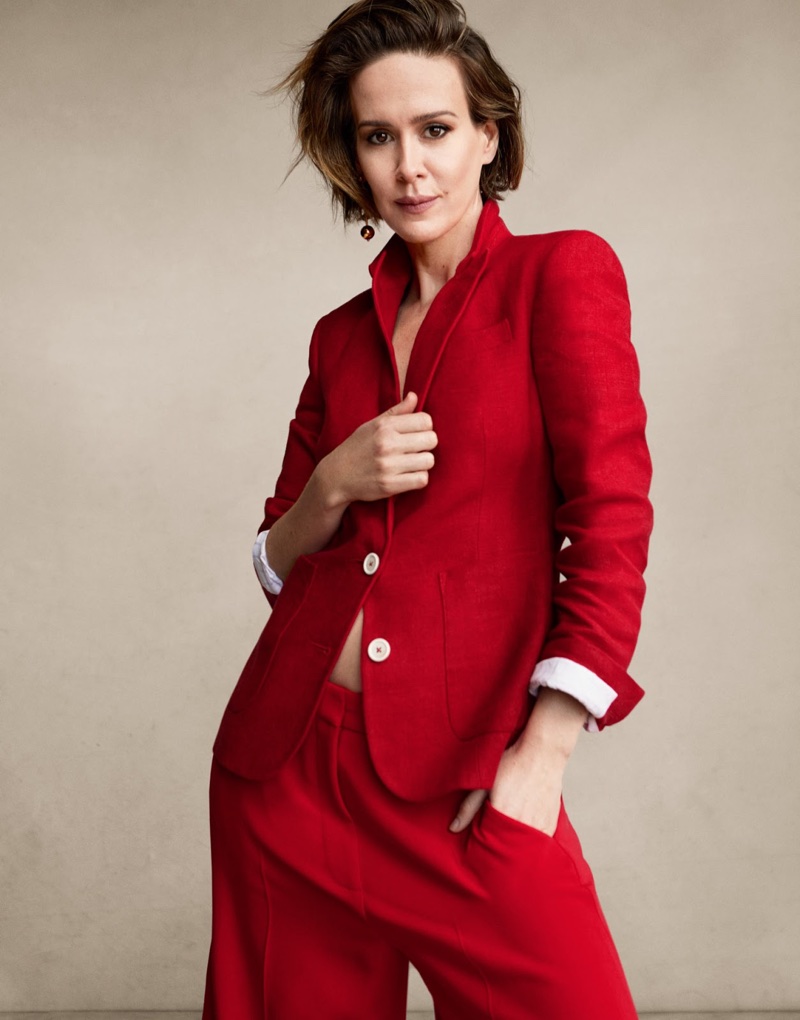 Suiting up, Sarah Paulson wears Hillier Bartley blazer and Stella McCartney pants with Sophie Buhal earring
Categories

New Posts

Hot Posts